In the vision industry, as is known to all in China, the market share of POMEAS is high in zoom lens and telecentric lens. However, this case application introduction is to show the core product which is belong to zoom lens and also telecentric lens. We call it telecentric zoom lens!
As known to all,
A zoom lens is an optical lens whose magnification can be continuously adjusted within a certain range.

It has two main features:
1. During the magnification changing process, the Lens O/I distance, working distance and rear focus remain the same, except the relative movement of zooming group.
2. Infinite light path design is adopted between the main lens and the attachment objective lens to facilitate the replacement of objective lenses with different magnification and extension of functional modules, achieving a magnification of hundreds of times. This is also the biggest advantages of zoom lens which can realize to infinitely adjustable magnification and remain high image quality when change the magnification , under the condition of without changing the working distance. At present, it is widely used in the video observation and detection of industrial measurement, liquid crystal panel, semiconductor and microelectronic equipment. Basically, Two dimensional measurement products adopt zoom lens.
Telecentric lens: It was designed to compensate for the parallax of ordinary industrial lenses. The magnification of image obtained does not change, within a certain range of distance, which is colloquially referred to as low distortion.
This product has excellent imaging quality, not only has the telecentric optical path design, the ultra low distortion imaging, but also is a kind of high resolution zoom telecentric lens with variable working distance, compact structure, flexible and convenient use.
Product Advantage
——
1. Ultra-low distortion imaging , as it is based on telecentric optical path design
2. With high resolution, it surpassed other zoom lenses on the same magnification.
3. The aperture is adjustable,and the depth of field and resolution can be adjusted flexible according to the requirement of use.
4. Working distance is adjustable. The working distance can be adjusted according to the demand under the visual field allowed. It is flexible and convenient to use.
5. The front end of the lens is equipped with a universal filter interface to facilitate the installation of filters.
6. Compact structure, small occupied space
Detection Requirement
——
● It is compatible to detect product surface defects and product sizes, such as transformer characters and pins, LED chip boards and other different sizes products.
● Compact structure, low distortion and high detection accuracy.
Project Challenge
——
● The size of the transformer is 14mm*4mm, and the size of the chip board is 4mm*2mm. In this situation, it is difficult for the fixed magnification lens to be compatible with two different detection at the same time. While the structure of zoom lens is too long, although it can be compatible.
● The transformer characters and pins are at different heights and then it requires extra large depth of field to see both positions clearly at the same time
Solution Case
——
● Monochrome CCD digital camera
● For the lens, we adopt the high resolution zoom lens with 0.5X-1X magnification
● For the light source, we match POMEAS white multi-angle ring illumination(According to the actual sample to choose suitable light source) and parallel backlight illumination to this solution.

Case Demonstration
——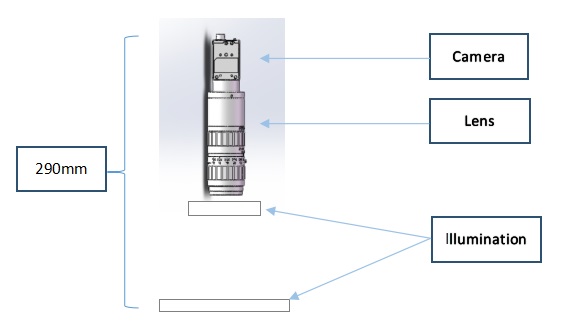 Core components Introduction
——
⑴ POMEAS high definition CCD camera
The new generation of gigabit network camera has lower power consumption and smaller dimension. 1000m bit/s stable transmission speed is compatible with 100 Mbit LAN. It can truly restore images in all scenes and color temperature to keep sharp and clear, as its low power consumption, low noise and high stability.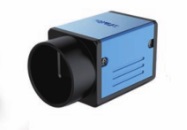 ⑵ POMEAS 0.5X-1X high resolution zoom lens: PMS-LZME5010M
Advantage:
● Based on the design of telecentric optical path design, and with low distortion.
● With high resolution design, its N.A. value and contrast are better than that of the telecentric fixed magnification lens.
● Aperture is adjustable, flexibly adjust the depth of field and resolution according to demand. In this case, it can meet the high depth requirement by adjusting the aperture.
● Lens front end equipped with universal filter interface, convenient to install filters
● Compact structure, small occupied space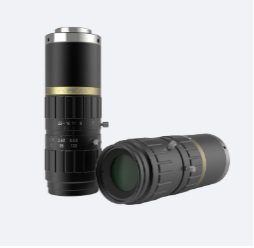 ⑶ POMEAS ring light source (high-angel light), parallel backlight illumination
● POMEAS has a complete range of ring light source, so the multiple colors and multiple angles is optional. In this case, the high Angle white ring light source is used to detect the defects of the LED chip board, which can clearly illuminate all positions in the product slot and make the defects such as dirt and gold wire falling off form an obvious contrast with the background, so as to facilitate software identification.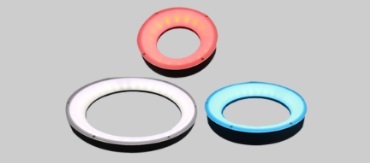 ● The density arrangement of LED on POMEAS parallel backlight is high. Its overall uniformity is good, the light is soft and with high brightness, which can highlight the product's external outline clearly, facilitate software identification and capture, and ensure the high stability of measurement.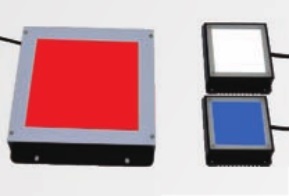 Case Demonstration:
——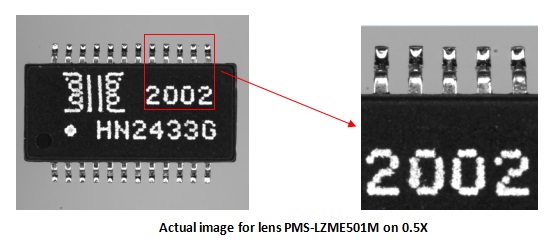 Actual image for lens PMS-LZME501M on 0.5X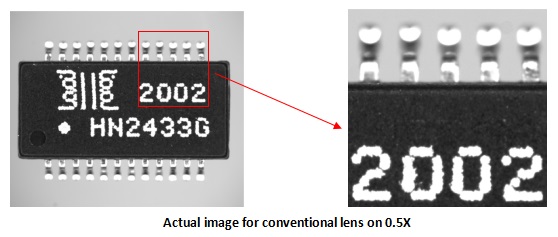 Actual image for conventional lens on 0.5X

Actual image for lens PMS-LZME501M on 1X to inspect LED chip board

Actual image for conventional lens on 1X